The Tiny House Jamboree ~ My Tiny House Tour USA (3)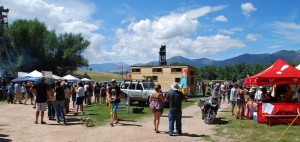 Oh my, a memorable weekend that was! The Tiny House Jamboree 2015 in Colorado Springs, USA. Three days of Tiny Houses but above all, three days with its wonderful people. Inspiration, warmth, openness, involvement. Can you imagine that, with 40.000 visitors? One huge Tiny House family. An unexpected gigantic success and if you ask me, well worth repeating! I'm so happy that I went, all the way from the Netherlands, and I enjoyed every moment of it. This is my personal post.
Camping
Hip, hip… Hoorayyyyy. I'm here! Stop number one is the Jamboree campsite. Yep, I'm on the list. There's your spot. Perfect! Not a lot of folks have arrived yet but there is movement. Every face that I see shows a somewhat nervous smile. You can feel the excitement!
Oh this is so cool! During a spontaneous round at the campsite, we get goosebumps by just talking to each other. For a lot of people this event is an important moment in time to start their own projects. Whether it's buying or building. The same for me. Even though my own project already kicked off, the actual build is about to start too after my trip.
Back at my tent I meet my new neighbours, Scout en Marianne of Tiny Living Giant Joy. What a sweethearts! Scout has been building houses for over 22 years! She teaches women how to build their own Tiny House, hands-on workshops. Well done! I can use some of that spirit and energy around me!
Not just tents… TINY HOUSES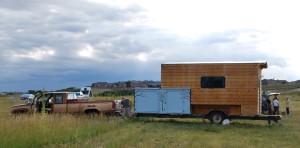 Only two minutes later I can hear the ROAR of a truck. It's having a very hard time! A not fully finished Tiny House just entered the campsite. I'm holding my breath… After all, it's not a clean and straight lawn where we're at. Nope, it's wobbly, unstable and the Tiny House goes back and forth! Brave, very brave folks! Finally, they're on their spot and immediately they open up the truck so it can breath. From a distance I can see the heat waves coming off the motor: overheated, and that happened before during their trip. Wow, that must have been a nerve wracking ride! But how cool, I almost forget to mention it, there is a Tiny House at the campsite! And more campers seem to like that idea so within seconds, a bunch of people have gathered around the home for a quick tour. With pride and enthusiasm they show us their home.
Off to bed,with the Jamboree in the back of my mind. Good choice, to stay at the campsite. Even though it is a 4 day off grid experience with one toilet in the middle, I'm surrounded by the right people. The Tiny House Jamboree 2015 is about to begin!
Day 1, Open!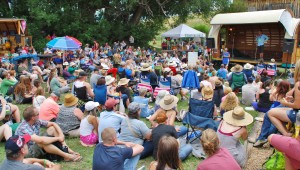 Keith gives me a ride to the entrance of the Jamboree. Keith still has some downsizing to do, so does his car. On every turn, the entire load of the truck moves from one side to the other. It makes me giggle… He parks his car and I head for the entrance. Going over the hill… over the hill… It may sound a bit dramatic but just imagine the fact that you will be surrounded by Tiny House people. Your people. They all want or have one. And the Tiny people, even though the Tiny Houses are quite popular at the moment, do sometimes feel a bit lonely from time to time with their way of life. And you put all these people together. Along with a lot of Tiny Houses. Along with a bunch of great speakers we all know so well from their books, videos, blogs and photos. All of a sudden it's all united. Those things that make your heart jump concentrated in one spot. It's hard to comprehend! So you can imagine the exciting tangible buzz. Drama is therefore allowed! Fully! I enter the gate with a heart so big and open and I don't have to do a thing about that, it all comes naturally.
To receive
Ow, I can't wait! And there he is, Darin from EcoCabins, I recognize him thanks to the cord around his neck: organisation. Before I went on this trip and registered myself for the Jamboree, they said: please come see and meet us, since you're from so far away. Okay! That sounds fun. I'll do that. So here I am. He recognizes me and I get a big hug! From that moment on he picks me up from time to time, puts a sticker in my hand, takes time to have a little chat and sends me to a remote spot at the Jamboree to see and meet a very important Tiny House person. All in all, I'm spoiled and looked after. From the very first moment!
Tiny House Walhalla!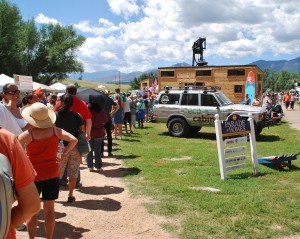 Next is the Jamboree itself… Houses from Sprout, EcoCabins, Volstrukt, Simblissity, Tumbleweed, hOme, a container, solar panels, composting toilets, wind turbines, insulation, yurts, Jay Shafers first home, Gypsy Wagons, bloggers, Tiny House community booth and more. In the corner of my eye I can see a team building a frame from scratch. There are waiting lines in front of every Tiny House. Where on earth shall I start? I know I have two more days so I just take a pick. Then you're there with some other folks, in a Tiny home! Checking out the place! My first House is the hOme of Andrew Morrison, at least, the model, not his actual home. The tour Andrew gives you on youtube is on my site so I know it quite well. I'm a fan! So now for real, I'm here! And despite the fact that others are trying to find their way around the house as well, it's all good. You can take your time, check it out and everyone is very friendly and respectful. Just perfect!  Onto the stairs, into the loft, through the kitchen, into the bathroom. What a House! You said Tiny? This is so cool. Next…
Test
With my own design in my head I try to look at the houses as if they were mine. Testing them. How does this feel? Do I want that? Hey, that's a good idea! For example, I now know I will not have the kitchen the way I designed it at first, with two blocks on each site and the hallway in the middle. Nope, that's not what I'm about to do. Way too restless for my taste and not a nice separate space. This is so very valuable. Tháts why you should see it for yourself. Only then it will come to life, at least, for me!
The speakers
At the speakers area a gorgeous Gypsy Wagon is doing a great job as a stage. B.A. Norrgard (A Bed Over My Head) talks emotionally about Tiny House movement, Alek Lisefski (Tiny-Project) is next with funny anekdotes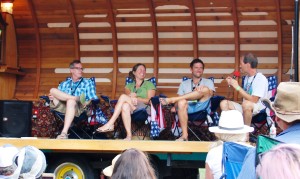 and some great advise on living together in such a small space. Andrew Odom (Tiny r(E)volution) with whom I already talked before I went on this trip, is doing a standup comedy show about Digital Nomads. This goes on for three entire days. The line up is huge! How on earth do they do that! I mean, think about it. You wish to live a different life, a Tiny life. You start a blog or a website and all of a sudden, you're on stage. There you go, share your thoughts with us. And they do it. They just do it and they do so well! Chapeau. Ordinary people with the same wish of living Tiny and walking around with the same enthusiasm as all the others at the Jamboree. Happy to meet those who have inspired them too!
This is how I spend most of my first day. A chat here and there, sharing the enthusiasm, getting to know people, and I'm off to the next Tiny House. I'm happy that I spend my time that way on day one, that turned out to be the quietest of the three, with an estimated visitors count of 10.000 people! By the end of the day I'm exhausted. And that's okay because it won't last long!
Day 2
What? There is a waiting line all throughout the parking area (and this parking area was huge!). They all want to go in! And it's still a bit early. I'm happy that I arrived on time, by foot, together with Greg from Rocky Mountain Tiny Houses. Just before the Jamboree I wrote him an e-mail. He is on my way back to El Paso and I want to see some more Tiny Houses before I go home. And a great job is what he does! So I contacted him. Not having any expectations and even thinking that he would not be able to see my e-mail before the Jamboree. But he did. He could even use a camping spot. Uhm, there is some room here. Yes, you can come over! Cool, this is fun. A real, creative Tiny House builder right next to my tent. From time to time we meet at the Jamboree. The ideas and information that I pick up from looking at the Tiny Houses and listening to the speakers are subjects over lunch and either fly out of the window or stay with me. I can ask questions. It's great and it's fun!
Who came the furthest??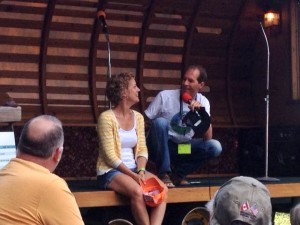 With still some fatigue in my legs from the day before and with a line up of speakers to dream of, I make sure I have a nice spot in front of the Gypsy Wagon. In the shadow. Kai from Tiny House Lending is on stage, as the MC for the speakers of that day. He looks up and says: 'Let me ask you something: who came the furthest??' Ooh, that question makes me a little nervous. That could be me! But I do not feel the urge to scream it out loud! Some States come by and all of a sudden I can hear somebody else say Holland! And no, this is not where that person is coming from. I still do not know who said it but there is no return. I have to get up on stage! People clap and cheer and I can feel my cheeks turn red. I take a seat and am happy. How cute is this. There you go, a Tiny House cap! Thanks!
#FamousFrieda
All of a sudden I'm somewhat famous (#famousFrieda). Sitting under a tree? Someone comes to me saying: 'Hey, you're from Holland!' A conversation follows. Sitting in front of the stage? 'Hey, you're from Holland. I want you to meet someone. Before I know I'm surrounded by new friends in one of the Tiny Houses. Some time after that a guy comes to me. He's telling me his mother is Dutch. I actually made him go. His wife said to him: 'if she goes, you háve to go!' How cool is that! And the speakers? They also would love to know who travels so far for the Tiny House Jamboree. 'Hi, so nice to meet you! You came all the way from… ?' Yes. All the attention, it makes me happy. It makes me shy.
Tiny House Family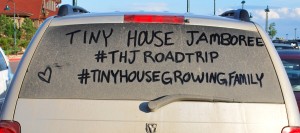 This is how day 2 will turn out to be, from start till end. Meeting, talking, getting to know one another, laughing, silly things (with 35 in one home!). I love it! What I like so much about it, is that it's not a shallow hi and bye. No, throughout the day we meet again and again. Where have you been? Which House do you like most? Have you been in that home?
Because of that, the feel, the excitement is increasing. All in all, on day 2 the Jamboree gathers around 18.000 people. It feels more like one giant family than a bunch of visitors. There's a buzz and it's strong!  You can tell by looking at and listening to the speakers. You can feel it in the air. You can see it in the eyes of the Tiny Home builders and owners. People are getting somewhat tired and it's hot out there, very hot but the movement is settling in, deeper and deeper. It's quite clear: this is not about the houses. This movement is about its people with their simple and lovely wishes. It's really beautiful!
Camp surprise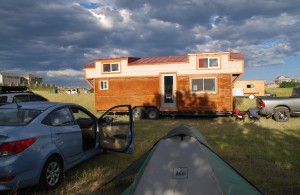 Boy oh boy, is there room for one other day? Yes! But before it starts I return to the campsite. My view is blocked! By one thing, a tiny home for a family. Three kids run around the site. What a gorgeous home, really. And it's for sale! Nah, won't fit into my bags. A pity though. Also here, the meet and greet continues. They give me a private tour! Kids, show me your home! It's just great. The cat is sleeping underneath the TV. The dog runs around the truck. You can not make this up. Right here, in front of my campsite.
Day 3
And so it continues. I'm tired but still have the energy to take more in, and not at the same time. I can tell others feel the same way. I do another round about. The Jamboree is big but not that big. Everytime I do a round, I meet new people, see new things. I'm here now so I better take advantage of that. Until one point: I'm exhausted. Sit! Eat! Do nothing! I do take a seat and it is refreshing but at the veggies – and fruit booth, Darin, the organizer comes to me and says: 'wanna meet Jay Shafer?' Ueh…. YES! Jay has spoken for about an hour that day, on stage. Great speech! We gave him a standing ovation. He has done so much for the movement! There are others who do that too, but this man… The just purchased melon has to wait then, so does the bottle of water and so does anything else that I drag along at that point. It looks a bit funny and silly. Not to mention the fact that I camped off grid for 3 days and haven't seen a single sink or shower. Darin and I, he hasn't been eating properly for a while too, stuff a peach in our mouths. Can you imagine that? Sticky fingers from the peach, packed with melons, water and more, unshowered, I'm about to meet Jay Shafer.
Jay Shafer
I'm in the museum, in a room away from the crowd. Jay's having an interview with someone. It's hard to imagine that this is fun: answering questions all the time, interviews, meeting people. For a moment I feel sorry for him. I myself, being surprised by this opportunity, suddenly realize that I'm not prepared at all. I ask myself: 'What on earth are we going to talk about?' Well, I just have to, with my sticky fingers, go with the flow.
Jay's ready. Those who are in the room leave us and I'm right in front of Jay Shafer. Hi! At first it's somewhat unreal but soon enough Jay is asking me about my own wishes and sketches. For the first time I pull them out of my backpack. This is weird, I almost forgot. I'm about to do this too! Building my own Tiny House!
It won't take long and before we know it, we both are eager to show eachother our ideas. He is showing me things on his laptop, sketches a little bit, listens to my ideas. 'You have a very good sense of space'. Good to know and it encourages me to continue on this journey. I'm telling him about the type of wood I would love to use, moonwood. About the choice of insulation. About the origin of my design. About my idea to build a 3D realtime model of my home, from cardboard. He writes down some of the ideas and seems to be happy with them. 'Oh, it's so good that you mention that, I wanna do that too! Thanks for the reminder!'
Time passes by quickly. Almost an hour. We are both happy and excited. He shows me his latest ideas and we both think out loud. Therefore there is no actual end to the conversation. While packing my back more ideas pop up. This is fun. It's a special moment. Who knew!
Grateful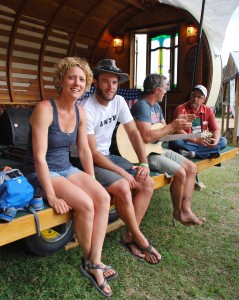 With a big smile on my face, I return to the Jamboree site. It's the end of the afternoon and people slowly leave the ground. What's left is an immense feeling of gratitude. Gratitude towards myself and my own decision to just go (I could have bought a trailer instead…). Gratitude towards the organisation who worked their butt off to make sure that this overwhelmingly large crowd has the best time ever. Gratitude towards those I met and who inspired me and made me feel so much at home. Gratitude towards the feeling of actually finding a group of people who get it. Grateful. A few minutes later, I meet some speakers, Greg and the organisation at the Gypsy Wagon. Andrew Morrison is playing somethings on his guitar. He's laughing at my little piece of melted chocolate I brought along, a Tiny Tony (that's the actual name!). Happy, bright faces, with all of us. Tired faces too but so satisfied! What a weekend! Thinking about it brings tears to my eyes…
Not over yet…
The event touched me deeply, clearly. It moves some things inside. I have no idea what will happen because of that. I do know that I want to stay in touch. Sometimes after an event like this, everyone goes their own way again and you end up being in this cold spot. No, not this time. Via facebook we catch up, become friends, talk, chat. The buzz is still alive. I'm invited to groups and I'm happy for it. Can I take this buzz home with me, to the Netherlands? Can I find a way to do that? I have no idea. We'll see. I just let it simmer for a moment. Who knows what will come up. I wonder… and am excited.
PS I'm not a professional translator and English is not my mother tongue. You could stumble into some strange sentences, wrongly combined sayings or incorrect written words. I'm sorry if you do! But… you can help me out by leaving a comment (or email me). I do not consider that to be rude. I'm Dutch after all and being fiercely honest (read: rude) seems to be our middle name.

So if you've dreamed of being a Dutch person for a sec, this is your moment! It's very much appreciated because I like to learn and I like having a decent written blog too. Thank you very much!
---