A Tiny House try out ~ My Tiny House Tour USA (4)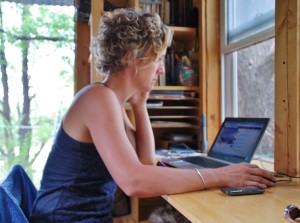 The idea: meeting people during my visit to the Tiny House Jamboree in Colorado Springs to see if I can visit them in their Tiny Houses on my way back. So… I rented a car. I had a tent in the back of the trunk and a few days ahead of the Jamboree I checked the Tiny House Map. Is there anyone on my route? Yes, a builder, Greg Parham. Who knows… Let's talk at the Jamboree and we'll see if this works out. It did and I got the chance to be in a Tiny House for a couple of days. A unique, inspiring and valuable experience!
With Greg, Rocky Mountain Tiny Houses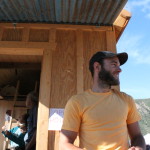 Where did I stay? With Greg in Durango, Colorado. I hit a Jackpot here. An architect, a builder. Several, in my opinion, very nice Tiny Houses on his portfolio. Mostly entirely customized, which means that almost every house is a unique design. He himself lives in his first built, the Durango Tiny House. On arrival I stumbled into two almost finished Tiny Houses in the pole barns. Another trailer is waiting to get started as well.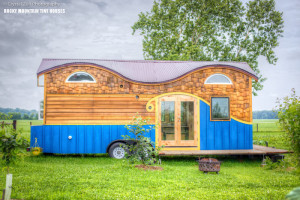 Five employees around the place, an inbox packed with requests for plans and builds, and Tiny House Builder of the Month in Tiny House Magazine (no. 32). A thriving company that is!
His company is only 2,5 years old and his own wants and needs for a different lifestyle, his love for building and his architect university degree all combined together, created Rocky Mountain Tiny Houses.
The Durango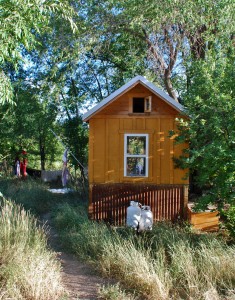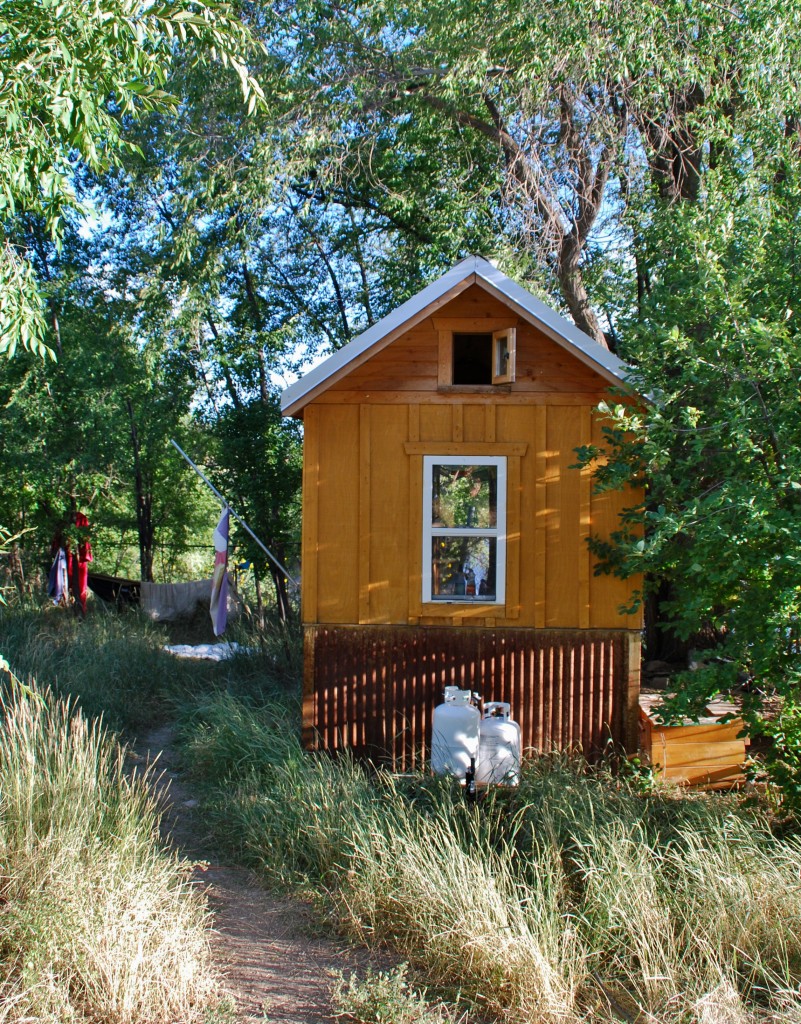 His own Tiny House, The Durango, was the kick off of his company. And it's this home where I was able to stay for a couple of days. It's cute! A tour around the house:
Trailer size: 82″ x 16′ (or 2,1 by 5,6 meter). At the back a fold up porch with the only entrance to the house in the middle. Let's step inside. On the left hand side a cabinet and a desk throughout the entire length with three big windows above it. Light and a nice sense of space that is! On the right, also lengthwise, a small couch and a wood stove in the corner. Above your head, a small storage loft. Okay, to the front. In the right corner a L-shaped kitchen with on both sides an outside view (I like that!). Left is where you will find the bathroom with a shower and composting toilet, and some storage space for clothes, jackets and shoes.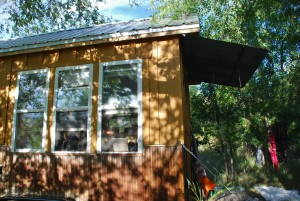 The bedroom is the loft on top of this area which can be reached by a ladder. What Greg did is storing his water tank on the side of the loft. Not a bad idea! The other side of the loft has a small wardrobe.
On the outside the house is finished with rusty corrugated wainscot, rough sawn pine board, and cedar lap siding in the gables. This combination makes it a both rough, robust and playful Tiny House.
What was it like?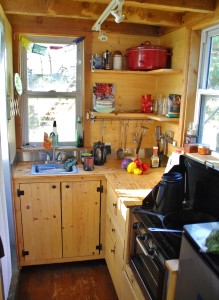 First of all, how cool to be and stay in an actual Tiny House! Do I really like it? Yes! I even enjoy staying in there very much. All you need is within reach. From milk for your morning coffee to the toothbrush in the shower to getting back your lost sock in a second. And like on a vacation, where you live with just a suitcase for a while and find out that that is also basically all you need, it's such a simple way of living. It's like camping XXL. Camping with your own home. I had the same feeling and and sense of freedom but now with a more solid surrounding. No wobbly gas stove in the grass, no, a kitchen. No moist tent cloth but a warm and cosy environment. Need to clean it? Done in a sec! And everything in the Tiny House is yours. Not as a temporarily trimmed solution, no, it's your home! You have everything you need. I'm very much looking forward to owning one myself!
What practical knowledge have I gained?
While staying and working in the house, I was able to experience first-hand what I like and dislike in a more practical sense. It's exactly this what I wanted to experience. The likes: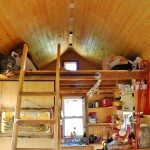 The sleeping loft. In the beginning, I had no desire to involve an A-frame loft in my design. The idea itself gave me some 

claustrophobic

tendencies

. The funny thing is, I had no problem at all! It even felt nice and cosy. I may end up having the sides of the roof lifted after all but this is maybe the most surprising experience of them all. It adds some possibilities to the design!
The porch and the door at the back of the house. A lot of American Tiny Houses, like the Tumbleweed for example, have this outside area. A small place to sit. Although the Durango has a fold up porch, to me, this always felt like lost space. What I actually like about it, now that I've experienced it, is that it provides some sort of inbetween space. It's literally an extra step to get inside. Without this pause, you stumble into a home right away. Too sudden in my opinion. You are talking about your own private space so this extra step feels right, energetically.
Besides that, it's an extention of the indoor space. Dry and still outside. Morning coffee, breakfast, dinner. It's good to sit over there and it gave me a nice "camp" feeling. But now with an actual home.
The size of the Durango (16' = 5,6 m). It's way smaller than my own plan (22′ – 24′ = 7,5 – 8 meter). I gave myself some time to just sit, feel and linger for a while. Just taking it in. What would I do with this space? What do I actually need? I found out that it's enough. I therefore decided to go smaller too and I'm actually also making it a little bit easier for myself. Weight is quite an issue for Tiny Houses in The Netherlands and Europe. If you wish to tow it over the road, the maximum weight is 3500 kg (7.716 pounds). That's a different story in the USA. A home with the size of 22′ to 24′ in length, well, it's going to be a real challenge to get the weight right. If I really want to stick to my plans, I may need to leave my original wishes material wise and I do not want to do that. The materials are important to me so in this case, for me, smaller is better.
The dislikes:
The ladder. I'm not afraid of heigths and I do not have a problem climbing trees, however, a ladder for my Tiny Home? No. I found out that it's always a hassle to get off when you go up and on when you go down. For a storage loft it would be a perfect solution but going to or getting out of bed? When you're ill? Or had a very good time in the pub? So stairs it is! This also provides me with some extra storage space. A ladder might be small but I was surprised by how much room it actually needs, room that you can not use for other things.
A solid foundation for my next step
It's quite clear that how you experience the space around you and how you feel and move in it, is very personal. What works for me might be a total different story for you, and vice versa. Knowing what works for you is key with building your own home. In a Tiny House, where you have to decide on the interior in the very beginning, it's even more important than in a regular sized home. You're able to move some furniture in there to get a different feel. That's somewhat trickier in a Tiny Home with limited space. You have to think this through, you have to know what suits you and take that with you and into your plans (in my opinion also thé advantage of building your own home). The upcoming weeks I will take all that I've learned on my trip to the drawing board, until I have my final plans. I feel I have a solid foundation now to do that. And that's why this was such a good experience!
Greg, THANK you!!!
---