Land… ~ My Tiny House Tour USA (1)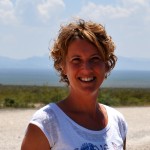 July 22 – July 28
54 hours. Fifty four hours. From door to door. A nodding head from time to time in the airplane or the bus, but more than that? No. No sleep. Next: to stumble into a bright, sunny and dry sauna  filled with cacti. A hair dryer, straight into my face. And I'm okay. I don't know how I did it but I haven't seen a single jetlag. Maybe because of this insane long journey. And I'm here, in the USA. And it probably will not be more USA than this. This is part one.
A warm welcome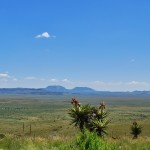 I'm in the Big Bend area, Texas. It's named after the bend of the river Rio Grande and it also marks the border between America and Mexico. Alpine, to be exact. And I'm so happy to start my journey here!
It's the warm Southern part of Texas. Warm in so many ways. Warmth from the sun, from the wind. Warmth from its people. From the friends who are so nice to have me over. From the people we meet on our way. I can not feel more welcome than this!
Colorful Alpine, Texas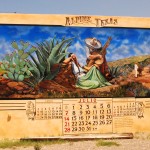 What surprises me big time is that the people in this region are so openminded and diverse! It's not what you normally would expect from a rural area. At least, in Holland that is. In this little town with no more than 6.000 inhabitants, spread over a huge county, there is a yoga studio, an organic food store, a university, artists, writers, ranchers, Latino's and more. A colorful mixture. They say it's the next Santa Fe. A hotspot full of inspiration for the creative ones. I think I'm at the right place!
A movie set
The environment is just like a movie set to me. Long, long lonely roads. The ranches alongside with the beef cattle. A piece of Ghost Town from the Wild West. Big trucks, very big trucks! Cacti. Worn out old volcano tops, rocks, the all-you-can-eat food stores (with organic food, spelt Tortillas and cacao from the Netherlands!!). And wow, what an experience that is, to drive through such a sight! From images from a tv screen to the pure reality in the moment. Due to the vastness of it all, it's sometimes hard to comprehend. Just for the fun of it, try "middle of nowhere" in google and check the images. Well, it's just like that! My bucketlist through the shredder…
Tiny Houses?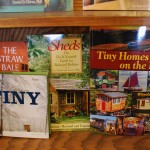 My Tiny House Tour hasn't lifted off fully yet. First and foremost, I need to land and take in all the gorgeous images and impressions. And even though the Tiny Houses aren't a big thing yet in this part of my journey, I do stumble into bookstores with Tiny House shelves. The library has the DVD TINY and the friends who are so kind to have me are thinking about building their own Tiny Home too. So we chat, think about it, and brainstorm over coffee.
Next up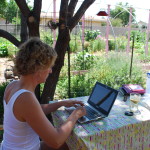 Phase two of the journey starts Wednesday the 29-th of July. I will pick up my rental car in El Paso and then camp my way up, slowly, via National Forests or National Parks, to the Tiny House Jamboree. Let's hope I will see some Tiny Houses on my way. I wonder! If not, there will be a lot waiting for me over there. No need to worry!
From the shadow in the garden with a hummingbird buzzing above my head, I say: Adios!

(From July the 22nd to August the 23rd, I'm in the US to visit the Tiny House Jamboree in Colorado Springs. The biggest event so far. On my way up and down, I hope to see some more Tiny Houses and their owners and builders. I drive around with my car and tent in the back).
---