Passed the tiny house station called 'home' – an update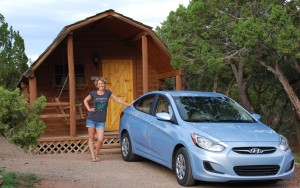 Something's changed. I used to think of my previous average sized home as a nice, secure place, and a safe haven. Like the shell of a turtle. But it was also too big, a burden, and at the end too expensive for what I really needed. The tiny home as a first home came into play and seemed to be a better fit. From where I'm able to travel, work, live, and more. So I thought! I now realize that I actually passed the station, the tiny house station, called home. What happened? I started to go back and forth between the USA and the Netherlands and the idea of 'home' changed for me. What's left of my wish to have my own tiny house? (Don't freak out, enough, but it definitely changed).
First this. What happened in the last year?
A lot. A little over a year ago I was in hospital for a few days: cysts. Several and big ones. They had to be removed and I'm glad they did. The pain was unbearable. So no, no building a tiny house at that time. After my recovery I went back to the States, February 2016. The reason? After my visit to the Tiny House Jamboree summer 2015 I somehow wasn't able to get 'back' to what I was doing before. I continued talking to companies  in the Netherlands about materials, to magazine about articles or blogs, but the flow was just gone. Not a lack of enthusiasm from either end. Just what it was. What did go well was everything I did internationally. I was asked to be a guest speaker at the Jamboree of 2016 (and I did that, about tiny house international), if I wanted to write a chapter in the new book to be, called Turning Tiny (and I did that, about misfits and the role tiny houses can play for them and for society), and Tiny House Magazine published several articles and wanted more. It became, slowly but surely, clear that I had to go back to the States. What is it that's so appealing to me? I wanted to find out without a gorgeous road-trip, without a summer surrounding me, and without the coolness of the Jamboree. So February it was. Darin Zaruba, organizer of the Jamboree and also CEO of  EcoCabins, offered me a place to stay in Colorado Springs and it allowed me to make it happen. There you go Frie, go find out!
Factory built?
You can imagine that because of the surgery and my American quest, the build of my tiny house got on hold. But not away! Not at all. EcoCabins showed interest in my design.

They think it's unique, practical and beautiful. They call it 'The Frieda' and maybe, who knows, several 'Frieda's' will come out of their factory in the near future. Because that's what they have, a factory. Uhm… okay! Initially I wanted to build my tiny home myself and building it in a factory did not came to mind. But I'm convinced now. I love the idea. Wish to know more about why factory built is a good choice, for me? Look it up at my page FAQ . To me it makes all the sense in the world.
Sponge
The stay was good and I there fore extended it, from 6 weeks up to 2.5 months. I visited the Denver Home Show with eleven tiny houses on display. I finished my design right there, sitting behind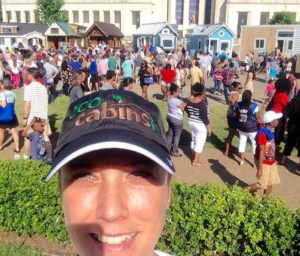 them. I went to meetings with Darin. I learned about coding and zoning, business, sales of property, homes: bigger, smaller, second homes. I was there when the THIA (Tiny Home Industry Association) was launched and we were brainstorming together about its goal, mission, the type of memberships, and more. They gave me a tour in the factory where, at that very moment, three tiny homes were being built. I visited Earth Day Texas where tiny homes steeled the show. I was a sponge for 2.5 months. It was all new to me and I enjoyed every minute of it.
When I came back to the Netherlands I couldn't find my focus and felt blocked. I wanted to go back as soon a possible and knew that before I got out of the plane on my way in. I needed a new ticket and got one. Again, 2.5 months with in the middle of my visit the Tiny House Jamboree of 2016. This time I was there not just to see some tiny houses but to be on stage and talk about tiny house international. And to help out and jump in where needed at this tiny event with approximately 60,000 visitors!
From milkmaiden to digital nomad
The USA, I and EcoCabins clearly clicked and because of it part of my work changed from milking cows on my friends' farm to editing web content, flyers, managing one of the sections in the book Turning Tiny, coordinating the shipment, and editing of business proposals and developments. Mostly digital and there fore doable for me as well. And oh so interesting. (PS in case you wonder how I'm supposed to pull it off, being a milk maiden first and now this. I do have experience in the field. I've been a manager of an eco-center, team leader in a Distribution Center, a job-consultant, agricultural management adviser, and a writer. Quite versatile and that comes in handy now!)
No deadline
Long story short… I'm in Calgary, Canada at the moment because I can only stay 90 days in a row each visit. So I drove up North, from Colorado Springs. I could have gone back to the Netherlands but January is not the prettiest of months:
grey and dreary. Also, I don't say no to a road-trip. Visit five to the USA is on its way and I'm looking into applying for a visa.  My tiny home design is at the factory and she just has to wait a little longer. Why? The first factory of EcoCabins up in South Dakota is not ideally positioned. Transportation is a tough cookie up there, also proper workforce is hard to get. They are looking into buying another factory in Missouri. The negotiations are taking place as we speak. That's what I'm waiting for and it's fine by me. Yes, it does take a little longer than expected but I'm not bound to a deadline. I have a roof over my head, when I'm on the road I have work for some income, I have food, due to my downsize mania of the last few years I'm fit for living with less, and my costs are therefore quite low too. I'm basically living out of my suitcase for the last year. I said goodbye to my small home in the co-house last summer and what's left is an official address in the Netherlands. For those who need it.
Passed the idea of my tiny house as my first home
And what did all of that do to my plans? Traveling made me change the way I feel about the concept called 'home'. My wish was to replace my slightly big home for a tiny home. One place I could call home and in which I would feel safe, comforted and from which I could do what I wanted to do and go back to. Also, movable in case I needed to be somewhere else for a longer period of time. Not too much stuff and clutter which I often experience as a pain in the butt. With the living light as a wanderer and living out of my suitcase for quite a while now, I had to review my design and own wishes. What I planned for was fit for my life back in the Netherlands. Was that still the case? Do I still need just one 'home' on wheels? The answer is no.
What I need now is several places I can go back to or visit when I'm around. From one steady home base entirely owned by me to possibly several (shared) places I can call home. One in the USA. One in the Netherlands for example. Not on wheels, still tiny. A writers cave. I could rent it out to Airbnb when I'm not there, or turn it into a try-before-you-buy spec model. And when I am there, I have a place to stay. So design number two is in the making. I'm passed the idea that there is and should only be one place I call home. I let that idea go, even a tiny one. Just like I did with most of my stuff.
Money and opportunities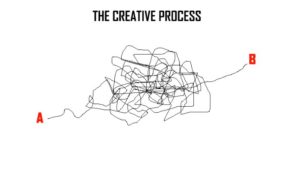 How am I going to pay for all this? They may be tiny those houses, but they are not free. Through my connection with EcoCabins and their wish to build my design, we could come up with a formula in which my home is being paid off over time. The beauty of it is that for most part I'm in control of that, the sales. As an advocate for and of the movement internationally and as the face of my own design. I have a steady and growing network. Their network is quite large and when we really decide on filming the building process of my home, a factory built customized tiny house, more opportunities could show up. There are options and possibilities, that's for sure (and FYI, Americans do know how to sell and see opportunities. Everywhere! A trade I'm more than happy to take over).
That's where I'm at. I let go of the idea of having my 'own home'. Things also went in a different direction and did not go according to plan. The Jamboree of 2015 happened. Oops… Regrets? Not at all and the story continues…
---
Photo credits: Frie
And media.licdn.com for the creative process