Inspiration
Books
Turning Tiny – Over 60 personal stories of the well-known movers and shakers in the Tiny House Movement. Divided into 6 sections such as business, building it, living in it, the philosophy behind it, communities, and more. It already got the nickname "The Tiny House Bible". Not so many pictures, but more on the actual stories behind those famous pics. Over 570 pages! (And you can find me on page 292!)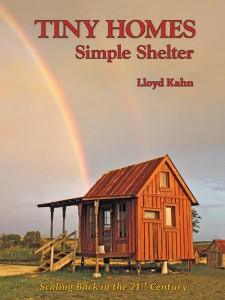 Tiny Homes Simple Shelter by Lloyd Kahn – A big, fat, exciting book full of inspiration, great pictures, cool people and their 'other' home.
Note: Not just tiny houses on wheels.
Tiny House Design & Construction Guide by Dan Louche – This tool, you need it for thát. You want this here? Then you need to do that. Simple, practical, efficient.
Note: The book contains the build of the construction from trailer up until interior. The probable needed adjustments on the trailer are not included. Also the finish of the interior is not included. It does include nice phrases such as: 'Building your own tiny house is an achievable dream.' Well, look at that. That's exactly what I need to know!
Events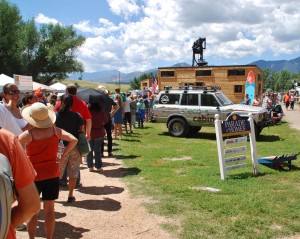 Tiny House Jamboree – Organized for the first time in 2015 in Colorado Springs, Colorado USA. They were hoping for 10.000 visitors but over the weekend 40.000 showed up. Including me, as the only Dutch visitor and traveling the furthest to get there. The Jamboree of 2016 counted almost 65.000! Because of its growth the Jamboree was taken over by Reed Exhibitions (they also organize Comic Con). At the moment it's one of the world's largest events on simple and small living. In 2019 the Jamboree will be held in Las Vegas! For Dutch folks it's not really around the corner but it's an unique event and brings everything you need to know about tiny houses. You can hear and meet speakers who live in a tiny home, built it, work with them. There are vendors with building materials, gadgets for your home, tours, workshops. How about that for some inspiration! The Jamboree is called 'The mother of all tiny house events'.
Tiny House Meetups – There are meetup groups all around the globe. The Netherlands, USA. In the Netherlands they will be announced on the facebookpage of Tiny House Nederland. It's a very fun and good way to meet others in the movement. You can share your design. Talk about composting toilets. Where will you live, and what did you do with for example the local government? How far are you in the process of building your home? Especially for a pioneer such as yourself, and you are a pioneer if you choose to live in a tiny home, a meetup is a great way to get some energy and be inspired.
Websites and video
Tiny House Build – Andrew Morrison, together with his wife Gabriella, were the proud owners of Tiny House hOme. Andrew shares his knowledge to help people build their own Tiny Home. I like the way he explains things. Understandable, efficient and practical. Hands on! And the ingenuity in his hOme! It's all very well thought through.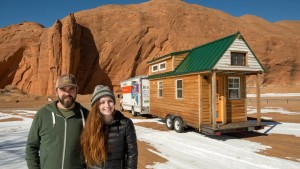 Tip: A tour around the tiny house (video).
Tiny House Expedition – Alexis and Christian are traveling in America with their tiny home. In the meantime they produce a radio show and documentaries. Storytellers with a purpose. This is one of their documentaries: Living Tiny Legally.
Those who inspire me
The Tiny Project – The Tiny House of Alek and his dog. Let there be light! His home has at least 10 windows. His photobook, with a lot of pictures, is worth a thorough look. I'm a fan!
Rocky Mountain Tiny Houses – Greg Parham, a tiny house architect and builder from Durango (Colorado, USA) builds and designs customized tiny houses since 5 years. You may have seen some of his houses already. They are out of the box, stylish and made with a keen eye for detail and craftsmanship. I had the opportunity to meet Greg, his company and his own tiny home during my travels in the USA. What inspires me is that he shows you that you can do so many different things, with both materials and design. And it's still a tiny home and affordable. This combo of creating your own home, in your own unique style within your own budget is one of the strengths of a tiny house, in my opinion.
Omega Mod Group – An initiative from David Papen and Darin Zaruba. Thought and business leaders in the tiny house industry. When my visa is approved I plan on selling structures from this factory. Why? Knowledge, craftsmanship, a huge network within the movement, certified, innovative with their patent pending 'box-system', ánd they can build tiny houses, customized.

They are capable of buying materials in larger quantities. Also natural building materials. And because of that, living in a tiny home made out of natural materials doesn't have to be an expensive, idealistic, and time consuming process. It can be an affordable, safe, and quick built reality. Their motto seems to be "why not?" and "we get shit done". Just perfect!
Woonpioniers – A Dutch company, Daniël, Jelte and Arthur. Woonpioniers means housing pioneers. Their website is Dutch but I wish to mention them here anyways. They inspire me and are so much more than designers and builders of small and different dwellings in Holland (the tiny home shown below is their Porta Palace). They have an overall needed vision of where the housing market should and could go. They help, with raising their voices, to open up this somewhat pale and rigid market. And they do that in an intelligent manner, gently pushing the boundaries. Good to have them with us!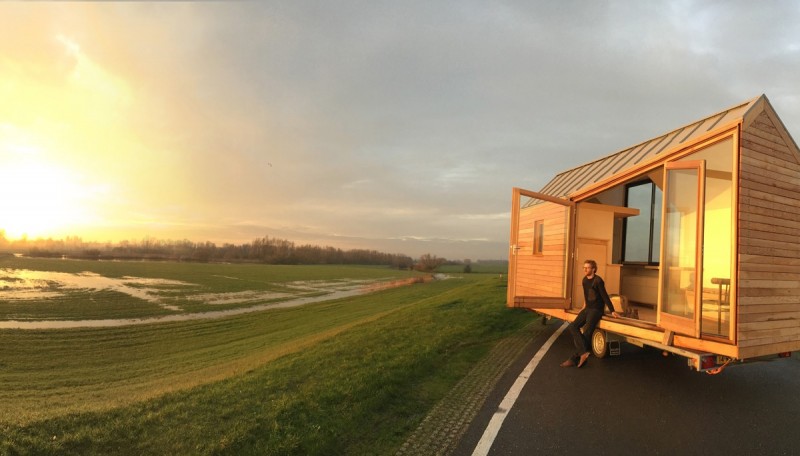 ---