A Tiny House in the USA?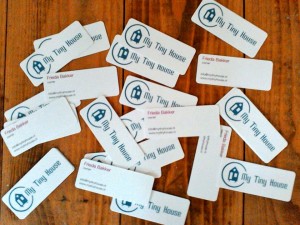 Last year, February the 16th of 2015, I visited the website of the chambre of commerce in order to sign up as a freelancer. I registered My Tiny House and Frieda Bakker as official companies. The plan? To build my own tiny home in the Netherlands and with that being a speaker and a writer. Plus everything else that would come along. And what came along suprised me in ways I could not imagine, and it still does! I'm in the USA, again, and will visit the States this summer too.
One leg in the USA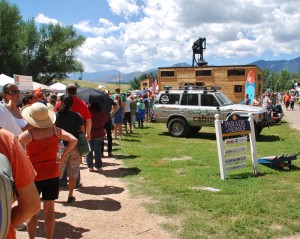 Well, what happened in the last few months? You may know that I visited the Tiny House Jamboree in Colorado Springs in the summer of 2015, during my roadtrip through the US. I gathered a lot of information and was inspired big time. I took that energy home with me. After the trip, I would start with the build of my own home. The idea was to buy a trailer somewhere in November and get started. That was the plan. But when I came home, I felt different. Yes, I was inspired, but one leg stayed in that big, old, gorgeous country. As a result, I could not get back on track. Eventhough I talked to Dutch magazines, other tiny house enthusiasts and companies, we could somehow not sync our schedules. Not a lack of time or enthusiasm, no, not at all. But as soon as we needed to arrange things in order to move forward, things were just off. Something stole my thunder. I was afloat. I was waiting on new things to arise and felt defeated for a moment but I also know these processes by now. It can take a while but at the end things will clarify again as to why I was afloat.
Tiny House International
The explanation to why this happened came from the other side of the ocean. There was movement there, in every possible way. Everything international related was going very well for me. Clearly, the Jamboree changed that. Tiny House Magazine showed interest and wanted articles. Not long after that the organizer of the Jamboree asked me to talk about Tiny House International at the Jamboree of 2016. After that the idea came to surface to compile a book with all those lovely stories from the bloggers, builders, dwellers and movers and shakers in the movement. "Frieda, do you wish to write a chapter in our book, Turning Tiny?" "Uhm… yay!"
Crossing the ocean
It became quite clear what I needed to do and where the wind was taking me. And it's exactly thát what I wanted with the start of this project, to be able to follow my bliss and that direction. But what about my plan? To build my home in the Netherlands? All by myself? It went to pieces.
I had to go to the USA again. There were simply too many questions that I could not answer by staying where I was, afloat in the Netherlands. What is it that draws me to this country? Why is one leg still there? I borrowed some money, went through some serious surgery inbetween, and then, February the 16th, exactly and preciously one year after the start of my own business, I flew out and went to the USA again.
Tiny House Mecca Colorado
I'm driving around in the car of the organizer of the Jamboree and also CEO of EcoCabins. I'm able to use it while I'm visiting. I go over a small hill and BAM, the Rocky Mountains show up in their majestic appearance. Man, it is gorgeous! How on earth… I'm driving around as if I never did anything else in my life. A second home, clearly. I'm visiting Colorado Springs again, a Tiny House Mecca. EcoCabins, Sprout Tiny Houses is not far from here, Tumbleweed, SimBLISSity Tiny Homes.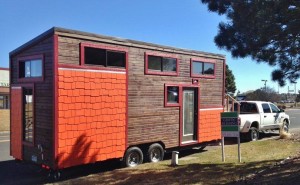 Because of my network now, I'm sitting first row in the Tiny House Movement of America. I'm given a tour in a factory in South Dakota that also builds tiny houses. I am able to visit the Denver Home Show where 11 houses are showcased in a tiny village. During a quick run to the office of the organizer of the Jamboree, a tiny house sits in front of the building. Just like that. See? Mecca!
The build of my own home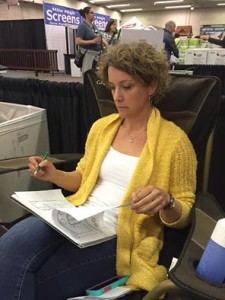 During my visit it became quite clear. I feel at home in the States. I somehow make sense there. As soon as I got off that plane from Amsterdam in Denver, the energy changed. As if a light was switched on again. And now what? My own tiny home may be build in the factory in South Dakota. We are talking! I wish and am allowed to follow the entire building process. Cool! And very interesting! My design is ready and I'm searching the web for natural materials. Will she cross the ocean? Nope. She will stay in the USA. I would love to go back and forth between Europe and the States. With some visits to other tiny house countries inbetween like Japan, Australia, South Africa or New Sealand. Writing about what I encounter over there. Writing about the build of my home and the movement abroad too.
The Digital Nomad: Tiny Journalist
How convenient is that, a tiny home. Affordable, small and nice. The freedom to do what I wish to do with ease and grace without having to worry too much about my basic needs or a huge home stuffed with… stuff. That is what I wanted for myself and what's happening right now. I only need to arrange a visa. I'm working on it. Maybe a tiny journalist on the move. Who knows…
To be continued!
---